At the end of last year, we were approached by Vembu technologies about producing some content for them, now to be honest they are not a company I have had any experience with and I wasn't aware of their products.
So as would any self-respecting admin/Blogger would do, I paid a visit to their website to see what the deal is and headed over to their about section, which has the following to say:
"Vembu is a leading provider of a portfolio of software products and cloud services to small and medium businesses for more than a decade. Vembu's vision is to make software and cloud services very affordable for the hundreds of thousands of small and medium businesses worldwide.
Vembu's flagship offering is the BDR Suite of products meant for on-premise, offsite, cloud backup and disaster recovery across diverse IT environments including physical, virtual, applications and endpoints.
Since 2002, Vembu's industry-recognized data protection solutions have delivered tangible value to more than 60,000 businesses worldwide through a network of 4000+ partners (MSPs/VARs & Resellers)."
Standard Fare, but promising. now what really caught my eye was their Philosophy:
"​We are not gifted. We work hard.
We want a better tomorrow. We try even harder.
Nothing comes perfect the first time. We persist.
Nothing special about us. We want our work to be special.
It's not about winning or losing. It's about sincerity of purpose."
This resonated well with me, struck me as an organisation willing to work with its customers and seek continual improvement.
OK stage 2, download and install a free trial, and have a play.
Now, i filled in my details (using my personal account and not my Vbrainstorm account) but before the trial had even completed downloading, my phone rang, and it was Vembu customer services ringing to schedule a product demo! This seriously impressed and showed excellent communication, and made me feel like I was a valued potential customer.
Sure enough, at the appointed time a couple of days later I was treated to a full product rundown of their comprehensive BDRSuite. and quite frankly it left me speechless. It left me with nothing less than the impression that BDRSuite is a complete backup solution allowing you to backup any system at any level of granularity, with complete application awareness. whether physical or virtual systems. Indeed, Vembu facilitates the virtualization of physical machines, a physical machine can be backed up and visualized in a single process. Indeed, any failed hardware that is backed up through BDRSuite can be booted in a virtual machine either to recover data or take the place of the failed hardware in a matter of seconds.
From my time in IT support, when large scale virtualization was in its infancy and Big Data was a new term, BDR seems like a solution to a broad range of problems, and is a product that interests me.
Product screenshots: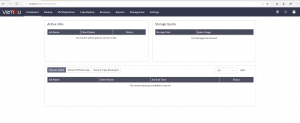 Dashboard, showing very simple clearly understandable user interface.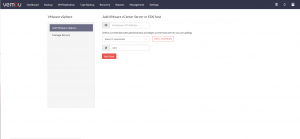 Interface for adding Vmware Vcenter server to the backups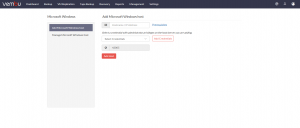 Interface for adding physical windows machine to the backups
BDRSuite gives the first impression of being the holy grail of backups, comprehensive and simple to use, I look forward to playing with its functionality!
Stay tuned for some more in-depth product evaluations