Today I am going to be covering a solution brief on one of Commvault's latest offerings, Metallic® File & Object Archive.
Who is Commvault and Metallic®?
Commvault introduced Metallic® in 2019, as it's DMaaS portfolio – bringing the best of data protection to  the best of SaaS
History: https://metallic.io/why-metallic
Metallic® is part of the Commvault Intelligent Data Platform (the slide you have included in your blog) and provides SaaS delivered data protection, including:
Metallic® Backup-as-a-Service, offering protection for SaaS applications including Microsoft Office 365, Microsoft Dynamics, and Salesforce; protection for endpoints; and protection for hybrid cloud workloads including Virtual Machines, File Systems, Databases, and containers.
Metallic® eDiscovery, offering granular search and export capabilities for Office 365 and endpoint data to help satisfy regulatory compliance requirements.
Metallic® Recovery Reserve, built on Microsoft Azure and delivering secure and scalable cloud storage for your backups.
What is Metallic® File & Object Archive?
Metallic® File & Object Archive enables Storage Administrators and Archive Managers to manage important but rarely
used data at lower costs from a trusted and compliance-ready archive. Using archive modeling tools, actionable
data insights, flexible storage options and modern SaaS delivery, Metallic File & Object Archive delivers informed data
placement giving IT operations more granular control over costs and quality of service.
The volume of unstructured data continues to grow as well as the costs, complexity and risk of managing that data. To control these risks, organizations need to manage and store that data as efficiently as possible.
That is where Metallic® File & Object Archive comes in! It delivers informed data placement to manage storage costs and reducing compliance risk, all with a simple SaaS delivery!
4 Key Takeaways
Informed Data Placement
Actionable Insights
Trusted Archive
SaaS Simplicity
Informed Data Placement
Metallic® File & Object Archive will run an analysis on your data, providing you projections and cost/space savings. You can then use this information to determine what data to move to less expensive archive storage, based on the needs of the data. For example, you have purchase orders that are needed for compliance reasons but they are rarely accessed. These files can be sent to less expensive storage for archival.
Actionable Insights
Metallic® File & Object Archive allows you to model decisions, set policies and drive impact analysis based on data insights, such as file access time or size. Using this information you can automate lifecycle management, retaining the data you need and removing/retiring the data you don't need.
Trusted Archive
Metallic® File & Object Archive is built on Commvault technology, the industry leader in backup and recovery solutions. This ensures your data remains safe, compliant and recoverable.
SaaS Simplicity
Metallic® File & Object Archive is cloud-based, meaning reduced management overhead, automatic updates and no Capex.

Here is an example dashboard showing what you will see once your NAS devices are connected.

A before and after snapshot is also provided. The purple line it what will be archived, the blue like is what will remain on disk.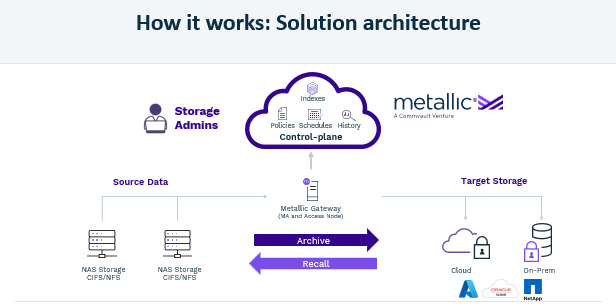 This diagram depicts how the solution works. Your NAS devices and target storage are connected to a Metallic Gateway, which will analyze the data to give you projected costs and savings. After the analysis, the qualifying data will be archived to your target storage for long term retention. All the heavy lifting is done with policies, schedules, indexes and history, all provided in the SaaS solution.
Some Context
Thinking about data "backup", remember that is all about making copies of data for availability needs (aka recovery after a data lost event). "Archive" exists to manage the old/inactive/historical data that may be needed in the future (i.e. Compliance).
Final Thoughts
Data is continuing to grow at an astonishing rate. Being able to manage and maintain this growth effectively is always going to be a challenge. As an organization, it is very important to know what is needed to remain on expensive disk (frequently accessed data) and what could be placed on a lower tier or less expensive disk. It is important to have a solution that can automate this as much as possible and this is why Metallic® File & Object Archive was created.
Additional Resources
Webpage:                                           https://metallic.io/file-object-archive
Press Release:                                   http://bit.ly/3R6beSS
Datasheet:                                          https://bit.ly/3b2vzbd
Animated Video:                              https://youtu.be/Lsx_4OA-P3M
Solution Brief:                                   https://bit.ly/3OFiKkx 
Disclaimer: This is a sponsored post. Commvault compensated me for my time but any opinions given are my own.