Yesterday I wrote about the Dell Equallogic line of products. Today, I am going to give us a overview of the Dell Compellent Fluid Data Storage platform.
Comepellent has a nice white paper titled
Fluid Data Storage: Driving Flexibility in the Data Center
Dell Compellent takes a different approach to data than a traditional San. Dell Compellent is about Fluid Data Architecture, which includes the following. (taken from the above link)
Fluid Data Architecture
Storage Virtualization
Thin Provisioning
Automated Tiered Storage
Space-efficient Snapshots
Thin Replication
Unified Storage Resource Management
Open, Agile Hardware Platform
Since I have some Dell Compellent experience, I will do my best to put each into context.
"Dell Compellent storage is enabled by a dynamic Fluid Data architecture that actively, intelligently manages data at the block level. Specific information about each block is captured in flight throughout the day to provide real-time intelligence for dynamically storing, migrating and recovering data. These use characteristics are gathered using minimal system overhead but can be extensive. Examples include the type of data stored, disk drive used, RAID level, time written, frequency of access and more."
Basically, this manages data for you, by placing new data in faster locations and moving data that is just being read into a different tier, as a example. Which I will get into later.
"Managing data at the block level also enables Dell Compellent to virtualize storage at the disk level.

Storage is presented to servers simply as capacity, regardless of disk type,
RAID level or server connectivity."
Within a Dell Compellent San, different disk types, speeds, and raids all are within the same Virtual storage. Volumes are mapped directly with ease. You can map volumes to single servers, or clusters, from the Storage Center management application, or even a VMware vSphere Client plugin.
 

"Dell Compellent significantly reduces the cost of storage by enabling you to purchase and manage fewer disk drives now and in the future.

Dell Compellent Thin Provisioning software, called Dynamic Capacity™, completely separates allocation from utilization, eliminating preallocated but unused capacity."
With a Dell Compellent San, all storage is thin provisioned, allowing for huge pre allocation storage savings. The Dell Compellent Storage Center Management application gives you a great overview of current allocation of used space, along with estimates based on usage until full, per tier.
 

"To continue containing costs throughout the lifecycle of enterprise data, Dell Compellent leverages an innovative data movement engine that integrates intelligent tiering with advanced virtualization."
Dell Compellent Data Progression movies data from Tier's in order of the disk speeds in your array.  New data is written within a Higher Tier and moved down in Tiers, and therefore disk speed. 
Tier 1 > Tier 2 > Tier 3.
Data is also written on the outside of the disks if needed, to increase system performance.
Basically, as data ages, the idea is it is cheaper to have it on Sata disk, than SSD, or SAS. This technology will automatically do this. I have seen in work, and it works well.
Space-efficient Snapshots
 

"With Dell Compellent, snapshots are space efficient because Data Instant Replay™ software doesn't require a full mirror image or subsequent full-volume clones. In fact, only changes in data since the last snapshot, or Replay, need to be captured, dramatically reducing the amount of disk space required."
Dell Compellent does a great job of managing data at the block level, this makes snapshots fast. Enough said.
 

"Dell Compellent Thin Replication™ technology, Remote Instant Replay, provides affordable, verifiable and simplified multi-site data protection leveraging space-efficient Replays. Following initial site synchronization, only incremental changes in data need to be replicated."
Since the Data in Managed on a block level, again it makes replication easier and faster. Dell Compellent doesn't require same disk or storage protocol to be used on the replication partner. You can even use pre configured portable drives for initial replication.
Unified Storage Resource Management
 

"With Dell Compellent, there is no need for specialized skill sets or ongoing systems training. Wizards guide users through system setup and application configuration, making even advanced operations simple and straightforward."
The Dell Comepellent Management interface is a easy to use, web management solution. In addition , Enterprise Manager, allows extensive reporting and trending of uage and or performance.
Open, Agile Hardware Platform
"Unlike systems that require you to rip and replace hardware as your business needs change, Dell Compellent supports the continual adoption of new technologies on a single, modular platform. This isa major departure from the status quo, which imposes artificial restrictions on everything from drive type to server interconnect."
This allows for the same code set across the line of controllers, and by large the difference in controllers in cpu, cache, and I/O slots. The controller's are Clustered, allowing for failover in a downtime , or planed event.
—-
Dell Compellent has detailed information on each of the above Here.
—-
Today the Compellent Storage Center 4.5 has the following technologies. Compellent SAN Technical Specifications * note, I will summarize to my best abilities. The following is taken from the above link/document.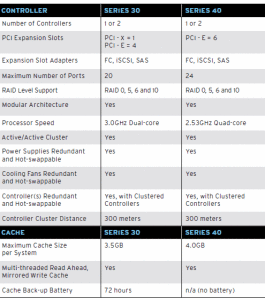 Drive technologies and protocols
"Fibre Channel and iSCSI server connectivityDrives, Enclosures• Supports any external interfaces and drives • SAS • FC • SSD • FCoE • iSCSINAS• Storage Center with NAS (boots from Compellent SAN)• zNAS (boots from Compellent SAN)"
Detailed Hardware information, included dedication pages with additional information can be found Here.
—
Make sure to check out the CompellentCML's Channel on youtube. Here are a few suggestions.
Compellent Live Volume Demo Part 1
Compellent Live Volume Demo Part 2
DEMO: Initial System Configuration
DEMO: Maximizing Storage Efficiency and Utilization with Compellent
DEMO: Establishing Remote Replication with Compellent
DEMO: Adding Storage on the Fly with Compellent
DEMO: Rapid Local Recovery with Compellent
DEMO: Intelligent Data Tiering
DEMO: True Thin Provisioning with Fluid Data storage from Compellent
I hope this gives you of you new to Dell Compellent a good understanding of the product.
Roger Lund