Dell announced today a flood of new storage products.
Below is the press release.
More to come on the below technology's.
"
Dell Storage Forum, BOSTON, June 12, 2012 – At Dell Storage Forum, Dell today announced new solutions that continue to advance its Fluid Data architecture to help customers efficiently manage their data and protect business information.
The new advancements include updates to the Dell Fluid File System for a common, enterprise-class distributed file system across the company's three primary storage solution families, a new Compellent platform that dynamically unifies block and file data, a new version of its AppAssure backup and recovery software to address larger data sets, and a new entry-level Brocade 16GB Fibre Channel switch to support next-generation applications.
―The Dell Fluid Data architecture is designed to manage the growth of our customers' data, so they can manage the growth of their business,‖ said Darren Thomas, vice president and general manager, Dell Storage. ―We are delivering a new customer experience across a tightly integrated set of products and solutions with shared capabilities across our portfolio – driving up optimization, driving out the cost of forced end of life, and driving forward the speed and flexibility required by IT.
‖
Fluid File System Spans Compellent, EqualLogic and PowerVault
Following the introduction of the Dell Fluid File System in 2011, the company today unveiled the latest release of the Fluid File System with the new Dell Compellent FS8600 NAS.
http://www.compellent.com/Products/FS8600.aspx


The integration of the Dell Fluid File System within the Compellent architecture represents the final step in offering customers file capabilities across each of Dell's primary storage platforms – Compellent, EqualLogic and PowerVault. This provides customers with a common, enterprise-class distributed file system featuring snapshots, replication and built-in data protection features, and the ability to manage file and block information on a single enterprise storage platform.
SAN and NAS Scale on a Single Compellent Platform
The next generation Compellent array, comprised of the SC8000 and FS8600, is designed to lower the total cost of ownership by managing a virtualized, scalable pool of disks to expand up and out across block and file data without forklift upgrades. The new array includes new 2U, 6GB SAS enclosures that provide 12 3.5‖ or 24 2.5‖ disk drives per enclosure.
The Dell Compellent SC8000 is based on the latest 64-bit Compellent Storage Center 6.0 operating system and 12 generations of Dell design experience for a resilient platform that scales to meet business and data growth.
http://www.compellent.com/Products/Hardware/Controllers.aspx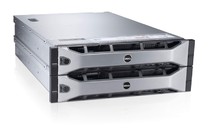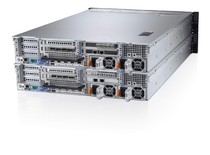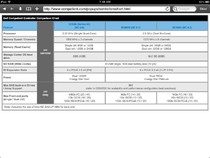 As a single platform for both block and file data, the SC8000 helps eliminate the costs and complexity of supporting separate solutions. Additional savings may be achieved through SC8000 advancements that enable greater energy efficiency as well as the ability to operate at higher temperatures, supporting fresh air initiatives.
The SC8000 builds on the existing SC40 Compellent architecture that gives customers 99.999 percent availability(1) across 26 million hours of continuous operation. The new unified solution allows businesses to grow with a reliable storage environment that provides greater agility for customers to expand their business and existing storage environment simultaneously.
The Dell Compellent FS8600 delivers high-performance, scale-out file storage that integrates with Dell Compellent automated tiering to enable efficient SAN and NAS within a single solution. This helps provide high performance and a low total cost of ownership across a single, scalable platform. The new Compellent unified solution helps manage data growth and control costs by seamlessly scaling up to one petabyte of automated tiered storage capacity within a single namespace.
The FS8600 is available in two options that support 8GB Fibre Channel connections and a choice of 1GbE or 10GbE connectivity to the client network. The new Compellent solutions are protected by the award-winning Copilot support team, which maintains a more than 96 percent customer satisfaction rating.(2)
The FS7600 (1GbE) and FS7610 (10GbE) systems integrate with new or existing EqualLogic PS Series arrays to deliver scale-out unified storage for 1GbE and 10GbE environments. File and block storage, including new support for asynchronous replication, are managed through the EqualLogic Group Manager and can scale to 509TB within a single namespace.
Less than four months after its AppAssure acquisition, Dell today introduced AppAssure 5 to help customers continuously protect business information and move and recover data anywhere with high levels of scale, speed and efficiency.
New AppAssure capabilities include greater scalability and performance utilizing a newly architected object based data repository to back up and protect larger data sets as well as Big Data applications. The solution also utilizes built-in, block-level deduplication and compression across data sets to automatically reduce the storage capacity required for backups and decreases WAN bandwidth requirements for replication by only transmitting optimized data. Additional support for Linux and localized language support is expected later this year.
AppAssure goes beyond traditional backup solutions by leveraging snapshot and replication technologies that allow the software to enable incremental backups that provide efficient use of network and storage resources while providing quick recovery.
http://www.dellstorage.com/appassure/
Unlike legacy backup products, AppAssure images the entire software stack, protecting the entire application—not just the files. Snapshots can be taken every five minutes and replicated to virtual, physical or cloud environments, enabling systems and data to potentially be brought back online in minutes in any location. If an application or server fails, the entire application can be started up on a standby environment or run real time during a data recovery scenario. AppAssure also automatically tests and verifies backup integrity daily to validate and ensure complete recoverability.
Availability:
 The Dell Compellent FS8600, EqualLogic FS7600 and FS7610, will be available in the second half of this year
 The Dell Compellent SC8000 will be available worldwide this month.
 AppAssure 5 is available in English language beginning today.
" source dell.
Enjoy
Roger Lund.
New Blog Post #dellsf12
Location:Summer St,Boston,United States