Today Dell has released a array of new storage products.
I have a attached the press release, along with a few photos. You'll see more to come as content comes out.

"
BOSTON, June 11, 2012 – At its second annual U.S. Dell Storage Forum customer and partner event, Dell today announced new solutions and services designed to help customers benefit from the further convergence of storage, servers, networking and IT management for improved data center simplicity and performance. These latest offerings advance the Dell Fluid Data architecture and support Dell's approach to deliver customer-inspired, end-to-end solutions that simplify IT management and deliver efficient results.
According to analyst firm IDC, while virtualization has reduced data center costs by 25 percent, IT organizations still spend 80 percent of their annual budget on maintaining and managing existing systems and only 20 percent on value-added activities and initiatives.1 A converged infrastructure can provide a single, tightly integrated system that reduces the complexity of running IT systems and enables a shared service model of computing that maximizes hardware utilization, improves availability, contains management costs, and reduces time to deployment.
"Dell is redrawing the lines among servers, storage, networking and management to offer customers technology convergence that provides simplicity and improved performance while reducing the operational costs associated with running today's data centers," said Brad Anderson, president of Enterprise Solutions Group at Dell. "Our holistic approach helps customers cost-effectively manage the physical, virtual and cloud environments that deliver flexible IT services to support their business goals."
New Dell EqualLogic Blade Arrays Enable Blade Data Center Convergence
http://content.dell.com/us/en/business/d/campaigns/equallogic-ps-m4110-series.aspx
The scalable and easy-to-manage Dell EqualLogic PS-M4110 Blade Arrays provide customers all of the functionality and enterprise-class features of traditional EqualLogic arrays inside a Dell PowerEdge M1000e blade chassis. The new blade arrays combine with Dell 11th or 12th generation PowerEdge blade servers and Dell Force10 or PowerConnect networking switches, enabling customers to run an entire data center within a single compact blade enclosure that helps streamline IT management and operations.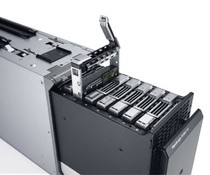 Dell's first storage blade arrays, like all EqualLogic solutions, are highly virtualized, scale performance along with capacity, and provide automated load balancing to optimize performance and reduce costs associated with running storage systems. They are designed to support virtualized environments, data center infrastructure convergence, and the general storage needs of small and medium-sized deployments.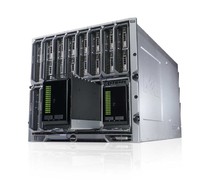 Multiple EqualLogic Blade Arrays can be configured in less than an hour with a fraction of the set-up time required by other available blade storage solutions. The new arrays also can provide nearly double the usable capacity – 96 percent more – than competitive arrays.2 In addition to leveraging the ease-of-use and all-inclusive software model native to EqualLogic, users can benefit from:
Four different EqualLogic PS-M4110 Blade Array configurations and the ability to store up to 14 terabytes of data per array, up to 28 terabytes per group inside a blade chassis, and up to 56 terabytes with two groups inside one blade chassis
Unique peer-scaling architecture that allows for simultaneous scalability of performance and capacity within and outside the blade chassis
The ability to scale outside the chassis to more than two petabytes of storage in a single group and provide approximately double the usable capacity of a competitive solution inside the chassis 2
EqualLogic set-up and deployment capabilities closely integrated with the blade chassis management console
Flexibility with blade arrays that fit into any slot within the blade chassis
Centralized monitoring and reporting tools that gather and provide in-depth information on performance, capacity and alerts across multiple groups of arrays, enabling improved performance and effective allocation of group resources
Advanced data protection, such as snapshots, clones and replicas, and advanced integration with Microsoft, VMware and Linux platforms wrapped into every solution
Support for multi-generational EqualLogic systems, allowing existing SAN arrays to receive continuous advancements and capabilities as storage and business requirements grow.
Combining the new EqualLogic blade arrays with the latest Dell PowerEdge 12th generation M420 blade servers and Dell Force10 MXL switches, Dell also announced the first pre-tested and certified Dell Converged Blade Data Center solution, a simplified and dense, end-to-end, 10GbE data center contained within a single Dell PowerEdge M1000e blade chassis.
With the convergence of Dell technologies, customers can support up to 48 percent more Microsoft SQL, Microsoft Exchange and Microsoft SharePoint users and up to 42 more users per watt of power compared to a competitive blade server and storage offering.3 Additionally, Dell's converged solution is notably easier to deploy, with 55 percent fewer major configuration steps to set-up storage alone.2
With the new Dell Converged Blade Data Center solution, customers additionally can benefit from:
A compact, shared footprint that reduces the need for excessive licenses, space, cable configuration and power and cooling costs
Flexible Dell Force10 MXL networking switches, scalable for 1GbE, 10GbE or 40GbE using interchangeable FlexIO modules

The PowerEdge M420, the world's only quarter height 2-socket blade server, offering extreme computational density, performance and efficiency
End-to-end 10GbE Data Center Bridging (DCB) that enables fabric convergence to help reduce costs as well as enhance quality of service through Ethernet
An integrated approach to infrastructure management that allows administrators to manage the underlying Dell server and storage hardware from their familiar VMware or Microsoft management consoles.
The new EqualLogic Blade Arrays and Dell Converged Blade Data Center solution are complemented by new releases of EqualLogic software that tightly integrate SANs with hosts and applications. With an all-inclusive software licensing model, EqualLogic storage systems include all supporting software applications and tools without additional licensing fees. New software releases include:
EqualLogic Array Software 6.0 – provides real-time data protection with synchronous replication, improved data security, and increased efficiency with snapshot borrowing, volume unmap, and volume undelete features
EqualLogic SAN Headquarters 2.5 – monitoring and analysis tool introduces the Dell Integrated Support feature for automatic diagnostic data collection and transmission to Dell for improved customer experience
EqualLogic Host Integration Tools for Microsoft 4.5 – offers enhanced reliability and availability for Microsoft SharePoint deployments with new Auto-Snapshot Manager for Microsoft SharePoint.
New Dell vStart 1000 for Dell Private Cloud Speeds Application and IT Service Delivery
As customers' virtualization needs grow, a fully integrated system can simplify virtualization infrastructure. Dell vStart systems include the servers, storage, networking and management tools to help customers quickly create or enhance a virtualized IT environment. With Dell's latest vStart 1000 for Dell Private Cloud, customers can focus on delivering IT services by taking advantage of Dell's ability to rapidly provide a pre-integrated, virtualization and private cloud infrastructure while lowering risk from a tried, pre-tested and certified configuration.
The vStart 1000 for Dell Private Cloud includes the first Dell Compellent storage and Dell Force10 networking-based vStart solution, providing the latest example of Dell technology integration from recent acquisitions into its end-to-end solutions portfolio. The new vStart systems include Dell's VIS Creator cloud automation software that improves IT responsiveness through highly personalized private, public and desktop cloud services by leveraging existing systems and processes. Dell vStart 1000 also is Microsoft Fast Track Private Cloud validated with Microsoft System Center 2012.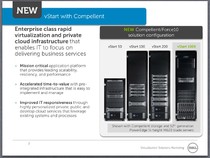 By leveraging the new PowerEdge M620, Dell Force10 networking and Compellent fibre channel storage, vStart 1000 provides a mission critical application and private cloud platform with incredible scalability, resiliency and performance." quote from dell

New Blog Post : #Dellsf12
Roger lund
Location:World Trade Center Ave,Boston,United States