As I sit here in my hotel room waiting to see what FIA's decision will be for the Saturday portion of the US Grand Prix weekend it seemed a good time to collect my thoughts from Dell World. Coming into the week there was seemingly more questions than answers concerning the Dell acquisition of EMC along with a fair amount of uncertainty. Chief among the questions was that of the cultural differences between the organizations. From talks with different executives, the plan is to have overarching goals and expectations of how to conduct business but otherwise embrace the differences that make each group unique; with their earlier acquisitions Dell tried to force a culture change and found it often did not work well for any parties. Another common question regards the overlap in product offering, to which Dell repeatedly expressed a commitment to all existing product lines. Ultimately there will be some changes made, but nothing beyond improving logistics chains looks likely for the short to mid term. The consistency and clarity in message from every exec I spoke with or heard at keynotes should be of relief to current customers of both companies.
In terms of OEM partnerships with the likes of Nutanix, Simplivity, SolidFire, etc. again the message was one of nothing changing in the foreseeable future from Dell's perspective. Toward this Dell announced three new XC nodes, the high density XC6320, and all flash XC630-10F and XC6320-6F. Additionally they announced the new SC9000 controllers for Compellent arrays featuring 12Gb FC interconnects, greater memory, and a new 6.7 release of SCOS that offers enhanced data compression allowing accessible frozen blocks to be compressed resulting in greater efficiency.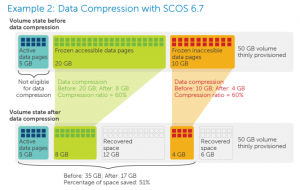 To negate performance impacts there are CPU cores dedicated to compression operations. A feature sure to appeal to customers migrating from EqualLogic to Compellent is the ability to import volumes to ease the transition.
Other new hardware announced includes the DSS 7000, 1500, 1510, and 2500 systems designed specifically to meet the needs of telecom, oil & gas, hosting providers and research organizations. To help you get these systems setup Dell now has a ProDeploy offering to help with the rack, stack and cabling for customers of every size. These deployment services to me looks to slot nicely between the existing consulting and ProSupport offerings in Dell's portfolio.