Who is Clumio:
Clumio Background
$51M+ Raised In Series A and B
Founded 2017 – Built on the public cloud
Co-founders
Poojan Kumar : CEO Oracle Exadata Co-founder, PernixData CEO, Nutanix VP Engineering and Products
Woon Ho Jung : CTO : VMware, PernixData, Nutanix
Kaustubh Patil : VP of Engineering : VMware, PernixData, Nutanix
Investors
Mike Speiser: Sutter Hill : Clover, Snowflake, Pure Storage, SumoLogic
Mike Volpi: Index Ventures : Citrix, Confluent, Pure Storage, Elastic, Slack
Mark Leslie: Leslie Ventures : Netapp, Nutanix, Veritas, Pure Storage
John Thompson: MSFT Chairman : Ex-Symantec CEO
State of the Industry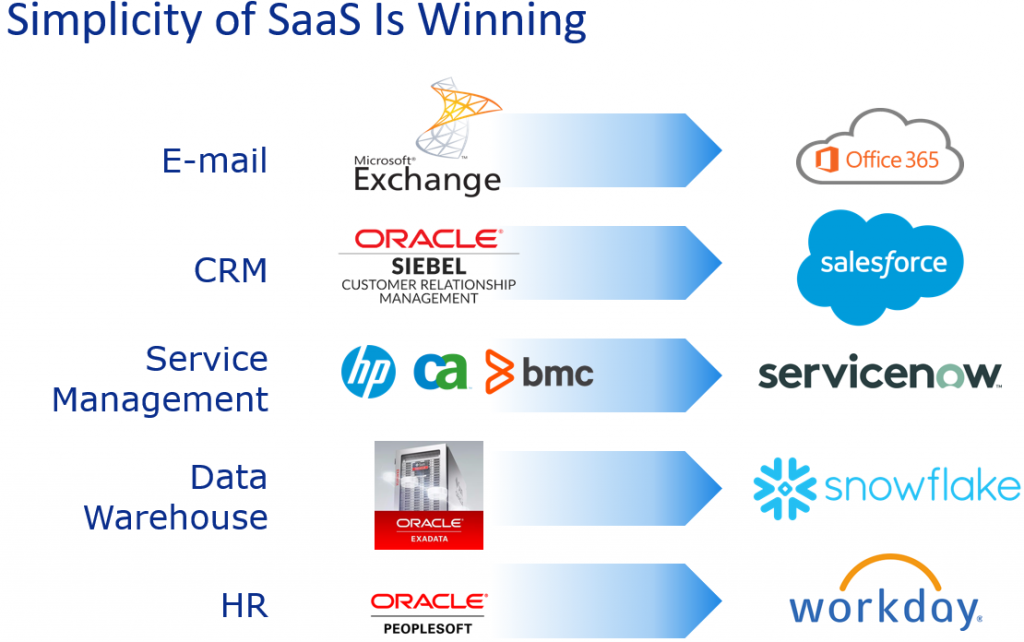 What is it: 
Clumio is a secure, backup as a service for the enterprise that replaces the complexity of software and hardware management with an authentic approach to SaaS. It protects your VMware workload no matter where it is running – within your datacenter, in remote locations, or even on VMware Cloud on AWS (VMC). All of this is done by subscribing to a service and without managing any hardware or software within your environment or in the cloud.
The Clumio service leverages the scale and elasticity of the public cloud to scale dynamically to meet the changing needs of the enterprise. In addition, security is incorporated at the core of its design to provide a secure backup and recovery service for the enterprise. This empowers the  IT team to focus on strategic business priorities, instead of the mundane tasks of managing backup and restore infrastructure.
Vision: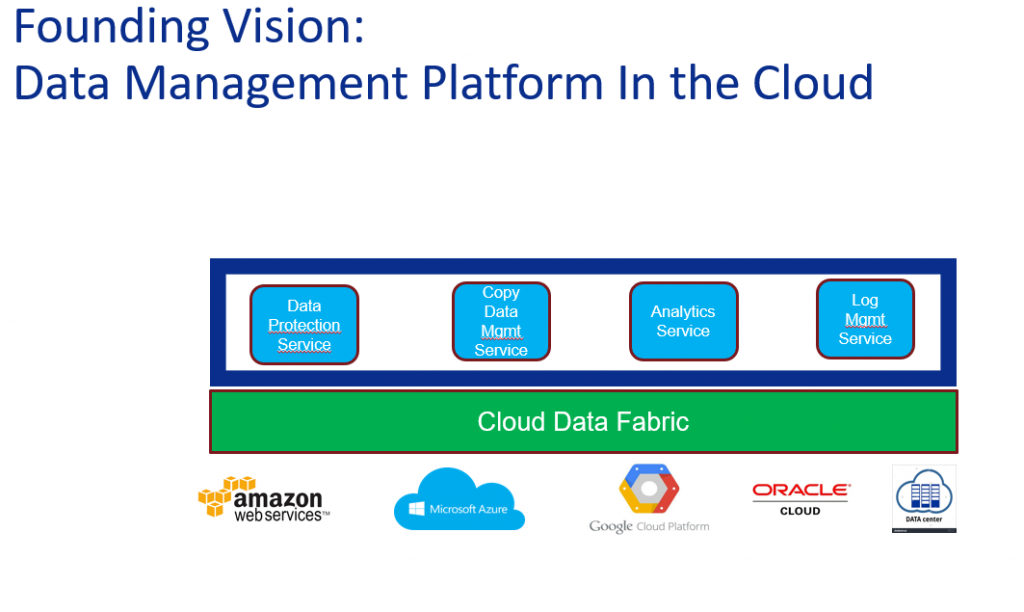 Approach :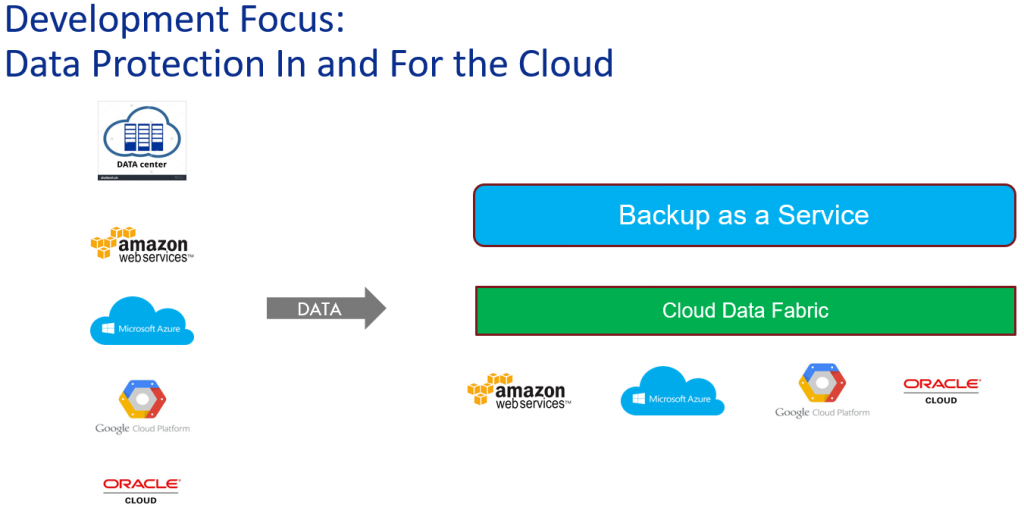 New features :
Clumio's flagship product, a secure backup as a service for the enterprise, became generally available on April 30th, 2019. It delivers the following capabilities to ensure that protecting enterprise data is easy and that users are confident their data is protected and secure.
Easy to Manage.  Setup and start protecting your data in less than 15 minutes. Instead of designing and buying infrastructure, just focus on identifying the appropriate SLAs for different applications and then create and assign policies to match those SLAs.
Predictable Costs. Pay for the service based simply on the number of VMs. Skip the complicated cost projections of on-premise hardware and software, and avoid surprise cloud charges by eliminating the need to run 3rd party backup applications in the cloud.
Scale On-Demand. Clumio scales resources automatically to meet changing enterprise requirements.
Global Compliance. Create one policy to manage the backup of VMs within the data center or across remote sites. Get a global view of the compliance status of the backups for all the VMs within the enterprise.
Always-On Security. All backups are encrypted in-transit and at rest.
In addition to on-premise protection of VMs, Clumio protects workloads running on VMware Cloud on AWS (VMC). Users can enforce policies for their VMs running on-premise or on VMC with one management interface. Users can also backup their on-premise VMs and restore them to the cloud on VMC.
Today's Challenge :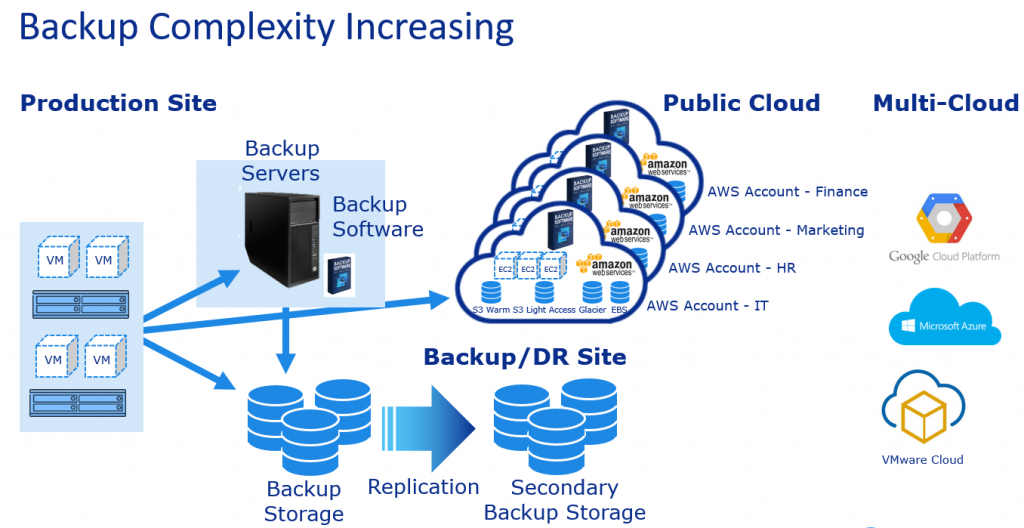 Ease of use :
Today's backup solutions are very complex to manage. Solutions need to be designed. If you don't have the skills, you need professional services. Due to the complexity, it can take weeks or months to implement your backup solution. Once live, you have to manage hardware, software and do capacity planning. You'll manage patches, upgrades, testing, and refresh cycles. You'll have to manage alerts, triage issues, get to root cause and distribute fixes.  With Clumio you can set your policy and start backing up in 15 minutes. Instead of managing all that infrastructure, you can monitor the protection and compliance of your data with a real-time dashboard.
If your backup needs spike unexpectedly, Clumio automatically scales processing and storage resources.  Instead of managing upgrades, you'll get automatic updates that address issues and add functionality. Clumio subscriptions include support that monitors all critical backup and recovery functions. If there are any backup issues, they're either resolved by Clumio entirely, or they're identified and tickets are submitted for your attention (for example, if a backup fails because of a network outage).
Clumio offers standard and premium support tiers.  Standard support is included with the Clumio subscription.  Premium support is available for an additional fee. Standard support SLAs range from four business days for low priority issues to urgent issues that have a two business-hour SLA.
Innovation In The Cloud :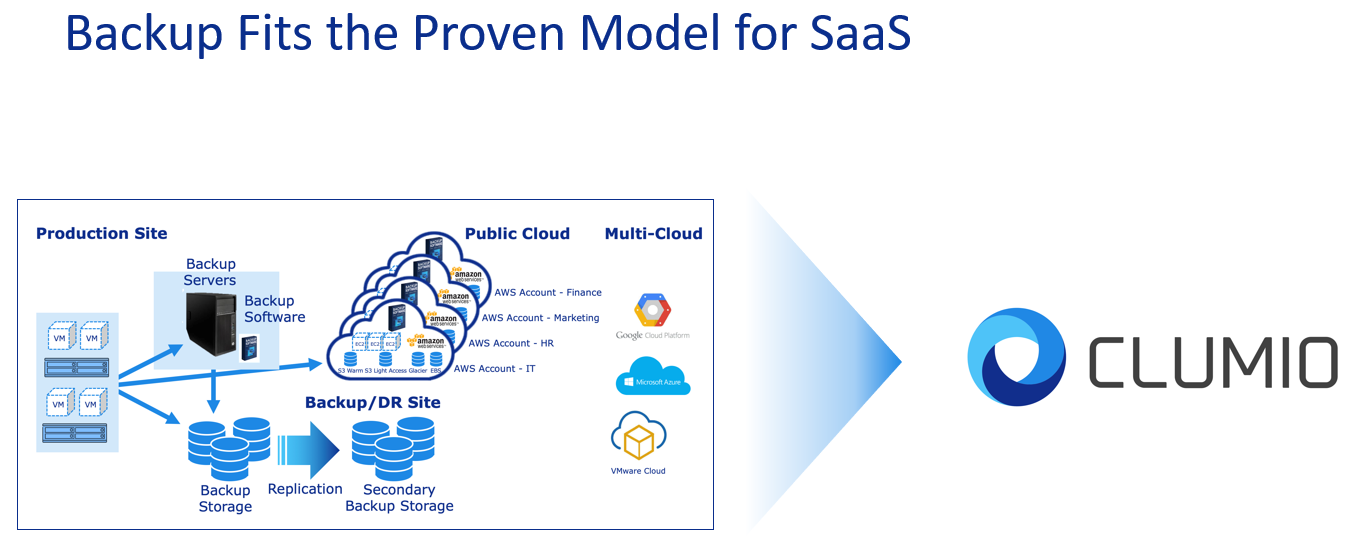 Enterprises want simplicity, ease of use, and security to take full advantage of the scale, economics, and elasticity of the cloud. The current cloud strategy of legacy backup vendors is nothing more than a "lift-and-shift" to the cloud. This requires manual management of virtual appliances that must run on expensive cloud resources 24×7.  This completely defeats the ease of use and economic benefits of the cloud.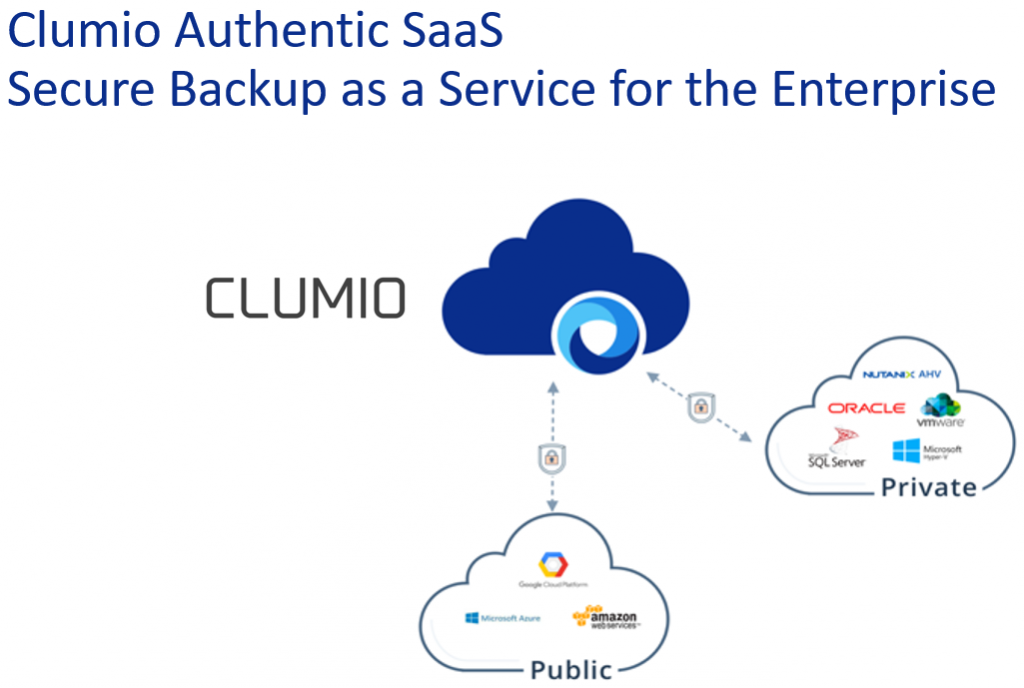 IT prefers to consume services instead of managing hardware and software that isn't core to their business. This is why customers are moving on-premise workloads to VMC. These customers often have a hybrid environment with VMs running on-premise and in the cloud.This means IT must back up workloads running in both places. Existing backup products require IT to deploy separate solutions to manage their on-premise and VMC workloads.  While their data still needs to be protected, IT likely does not have extra time to spend on it.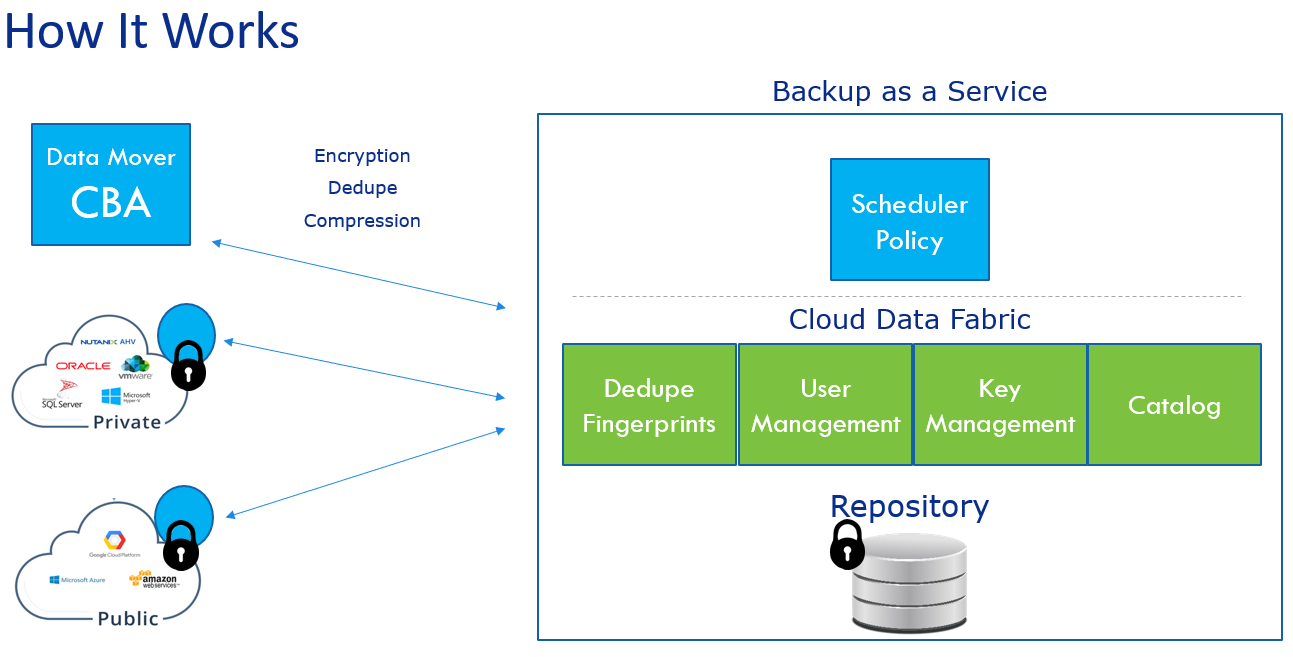 With the Clumio service, IT can centrally manage their backup and recovery needs for VMware workloads, no matter where they run. IT simply subscribes to the Clumio service and applies policies to the workloads that need to be backed up. IT can leverage time saved to focus on more strategic work.
IT can also back up a VM running on-premise and restore it to VMC and vice versa. This capability is missing from existing solutions.  Clumio support for VMC will help accelerate the adoption of VMC without increasing backup and recovery complexity.
Functionality and performance  :
Clumio leverages AWS.  It's massively parallel and has access to virtually limitless resources. This access to resources enables a seamless on boarding experience with no compromise in backup performance.  Clumio's vision is to help enterprises manage backups regardless of their deployment model – on-premise, hybrid, or public cloud.
Managing on-premise backup infrastructure is daunting. This is magnified by data growth, sprawl, and compliance requirements. IT has to manage separate infrastructure at each site and deal with changing demands. IT must also keep track of backup and restore requests across sites and triage issues with the backups and restores. The Clumio service eliminates the need to handle backup infrastructure across sites while providing a centralized way of enforcing policies and compliance.
Enterprises can now use VMC to run some workloads in the cloud while they still run other workloads on-premise. With existing backup solutions, customers must manage separate solutions for their on-premise and VMC deployments. Solutions that protect VMC workloads must run 24×7 in the VMC environment, dramatically increasing the TCO for backup.  With Clumio, customers don't need to manage a backup solution in their VMC environment. Customers get a centralized view of compliance and can manage both deployments with a single policy. This saves time, money and eliminates the risk of compliance failures.
Future updates are planned to address additional public clouds.
Value :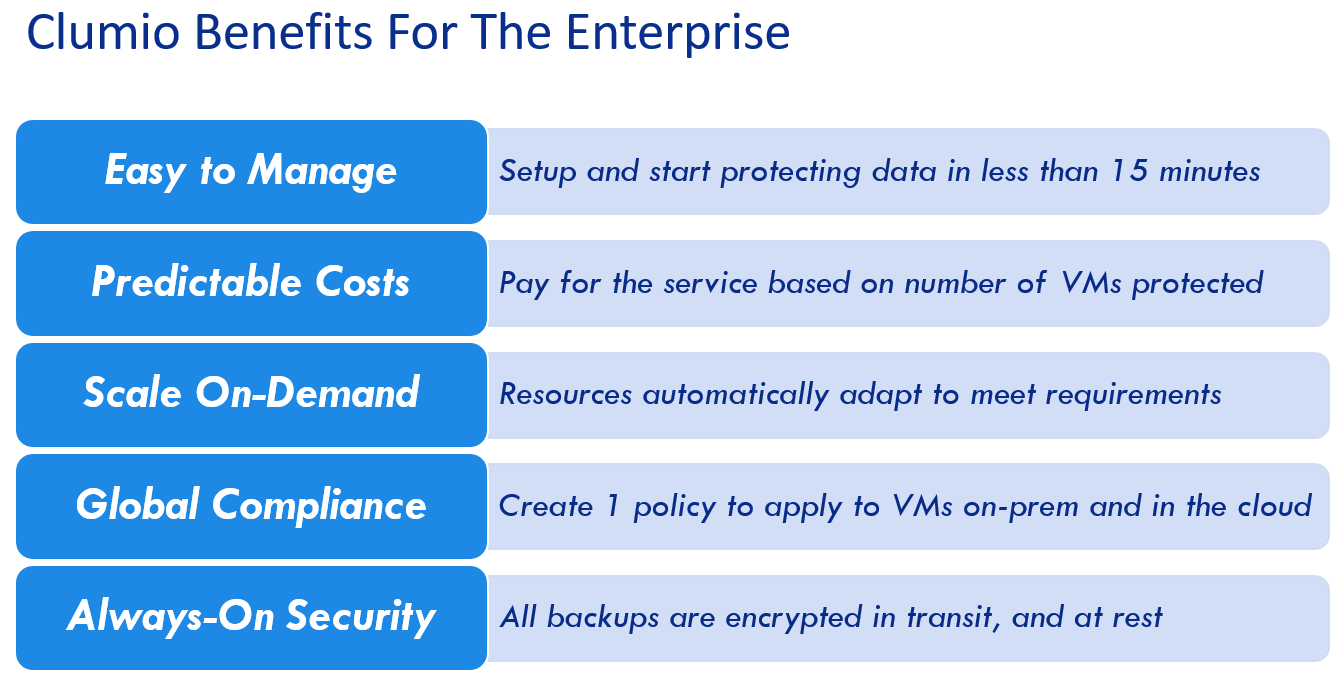 Clumio delivers business and operational value. Clumio delivers business value by offering straightforward pricing based upon the number of VMs you're protecting. That's it. Projecting your costs is as easy as planning your VMs.  You don't have to estimate the cost of design, upgrades, and maintenance, because we've already done that for you. There are no cloud bills or egress charges to worry about.
Clumio also provides business value by enabling data protection with end-to-end encryption and a singular view of global compliance.  Clumio employs FIPS Compliant AES-256 bit encryption. Clumio smartly leverages public cloud investments in physical, environmental and data security.  Clumio stores data in data centers that meet ISO-27001, SOC-1, SOC-2, and SOC-3.
The Clumio service also delivers operational value. Clumio takes care of critical data backup and recovery tasks. Clumio reduces the time and effort spent planning for software licensing and updates, hardware capacity projections, depreciation calculations, implementation planning, and execution. Clumio offers IT departments freedom from the manual tasks listed above, allowing IT teams to focus on more strategic initiatives.
With Clumio, backup no longer has to be an inhibitor to cloud initiatives.
Roger L