Today Xangati released a new release of their Xangati Dashboard.
Cupertino, CA – March 22, 2011 – Xangati, the recognized leader in infrastructure performance
management, today introduced the Xangati VDI Dashboard, the industry's first solution designed
to comprehensively track all key infrastructure components that affect VDI performance, giving
administrators the confidence and ability to successfully implement large-scale VDI deployments.
Leveraging Xangati's powerful real-time memory-based analytics engine architecture, the
Xangati VDI Dashboard tracks and continuously monitors activity of all VDI components within
the infrastructure without requiring any agents. The new dashboard also includes a performance
health engine that automatically and visually alerts administrators in real-time about the precise
location of performance issues. 
I have had a chance to play with the new Xangati release, and I'll say that the two new dashboards were an eye opener. I'm going to provide you with a couple boxed screen's, and dive into more later.
First the VI dashboard, which gives you a customizable dashboard, allowing you to select your VM's, Hosts, Servers, Host – Host paths, and Host-Network paths to monitor.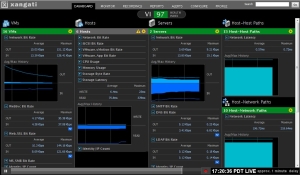 The VDI dashboard has a similar layout, only tailored to desktop's.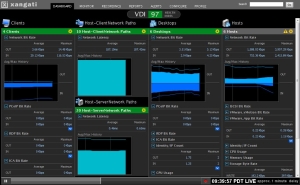 Now, this is just the tip of the ice berg, as each dashboard has fancy reports, and monitoring views. I'll dive into that next.
Here is the text about the new feature release form the Xangati source.
Xangati VDI Dashboard: Breakthrough Features
Real-time Performance Health Engine
The cornerstone of the Xangati VDI Dashboard is its patent-pending performance health engine
that analyzes the health of VDI in an unprecedented four microseconds. Relying on Xangati's
memory-driven architecture, the performance health of the VDI is being continuously monitored
across a broad spectrum of performance metrics to the unrivaled scale of 250,000 objects (which
can include desktops and clients). In contrast, other performance management architectures are
database-driven and unable to keep apace of dynamic interactions to scale that are fundamental
to VDI.

The output of Xangati's performance health engine is a real-time health index that is linked to the
health of every client, desktop, network link, host, VDI protocol and IT server that can impact VDI
end–user experience. In real-time – as an object's health shifts – the health index changes to

reflect the urgency of the performance issue. Moreover, the performance shift will trigger a real-
time alert, which is uniquely paired with a DVR-recording.

The DVR-recording will show exactly where the performance problem stems from and present
contextual insights about what is driving the sub-optimal performance. For instance, a specific
user community is seeing obvious delays in screen presentation due to a high latency network
link. These DVR recordings capture issues that are often outside of a VDI vendor's software
framework and can be passed to the appropriate IT function, e.g. to the storage team when
storage latency is at the heart of the performance issue.

All VDI Operations in a Single Pane of Glass
For the very first time, a VDI team can see in one pane of glass all the critical components that
sustain the VDI, as well as the desktops and their clients. Through this structure, the Xangati
solution is the only purpose-built dashboard framed to replicate how a VDI administrator seeks
to run their operations. Additionally, the VDI dashboard incorporates Xangati's visual trouble
ticketing model that allows end-users to initiate DVR recordings when they are experiencing
issues. In this manner, the VDI administrator can see, for example, that a user's poor VDI
experience on an iPAD is due to a highly congested WiFi network.

In contrast to other solutions marketed as VDI-focused, the Xangati solution can populate itself
with incredibly rich data without requiring guest software agents. It is this agent-free model that
allows Xangati to be deployed rapidly, even during proof of concept phases, as well as when an
enterprise wishes to scale their virtual desktops into the thousands or tens of thousands.
More information on Xangati : http://xangati.com/VDI_dashboard
http://www.xangati.com