Today Announces the release of VMware's vCenter largest release in VMware History. Note. These facts are pre release, thus I will update any changes if necessary, All Facts are direct From VMware.
vCenter Server Features – Enhanced Capabilities
Platform Services Controller 
Platform Services Controller includes takes it beyond just Single Sign-On. It groups:
Single Sign-On (SSO)
Licensing
Certificate Authority
Two Deployment Models:
Embedded
vCenter Server and Platform Services Controller in one virtual machine
– Recommended for small deployments where there is less then two SSO integrated solutions
Centralized
vCenter Server and Platform Services Controller in their own virtual machines
– Recommended for most deployments where there are two or more SSO integrated solutions
Linked Mode Comparison
Certificate Lifecycle Management for vCenter and ESXi
VMware Certificate Authority (VMCA)
Provisions each ESXi host, each vCenter Server and vCenter Server service with certificates that are signed by VMCA
VMware Endpoint Certificate Service (VECS)
Stores and Certs and Private Keys for vCenter Services
vCenter Server 6.0 – VMCA
Root CA
During installation, VMCA automatically creates a self-signed certificate
This is a CA certificate, capable of issuing other certificates
All solutions and endpoint certificates are created (and trusted) from this self-signed CA certificate
Issuer CA
Can replace the default self-signed CA certificate created during installation
Requires a CSR issued from VMCA to be used in an Enterprise/Commercial CA to generate a new Issuing Certificate
Requires replacement of all issued default certificates after implementation
Certificate Replacement Options for vCenter Server
VMCA Default
Default installed certificates
Self-signed VMCA CA certificate as Root
Possible to regenerate these on demand easily
VMCA Enterprise
Replace VMCA CA certificates with a new CA certificate from the Enterprise PKI
On removal of the old VMCA CA certificate, all old certificates must be regenerated
Custom
Disable VMCA as CA
Provision custom leaf certificates for each solution, user and endpoint
More complicated, for highly security conscious customers
Cross vSwitch vMotion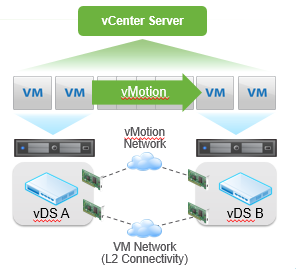 Transparent operation to the guest OS
Works across different types of virtual switches
vSS to vSS
vSS to vDS
vDS to vDS
Requires L2 network connectivity
Does not change the IP of the VM
Transfers vDS port metadata
Cross vCenter vMotion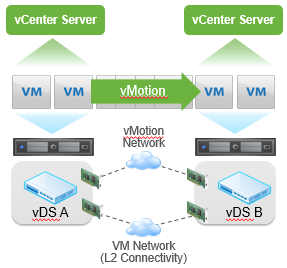 Simultaneously changes
Compute
Storage
Network
vCenter
vMotion without shared storage
Increased scale
Pool resources across vCenter servers
Targeted topologies
Local
Metro
Cross-continental
Requirements
vCenter 6.0 and greater
SSO Domain
Same SSO domain to use the UI
Different SSO domain possible if using API
250 Mbps network bandwidth per vMotion operation
L2 network connectivity on VM portgroups
IP addresses are not updated
Features
VM UUID maintained across vCenter server instances
Not the same as MoRef or BIOS UUID
Data Preservation
Events, Alarms, Tasks History
HA/DRS Settings
Affinity/Anti-Affinity Rules
Automation level
Start-up priority
Host isolation response
VM Resource Settings
Shares
Reservations
Limits
MAC Address of virtual NIC
MAC Addresses preserved across vCenters
Always unique within a vCenter
Not reused when VM leaves vCenter
Long Distance vMotion 
Cross-continental distances – up to 100ms RTTs
Maintain standard vMotion guarantees
Does not require VVOLs
Use Cases:
Permanent migrations
Disaster avoidance
Multi-site load balancing
Follow the sun
Increased vMotion Network Flexibility
vMotion network will cross L3 boundaries
vMotion can now use it's own TCP/IP stack
Content Library Overview
Simple content management
VM templates
vApps
ISO images
Scripts
Store and manage content
One central location to manage all content
Beyond templates within vCenter
Support for other file types
Share content
Store once, share many times
Publish/Subscribe
vCenter  -> vCenter
vCloud Director -> vCenter
Consume content
Deploy templates to a host or a cluster
Client Overview and Web client Changes
 Client Comparison

vSphere Client
 It's still here
Direct Access to hosts
VUM remediation
New features in vSphere 5.1 and newer are only available in the web client
Added support for virtual hardware versions 10 and 11 *read only*

vSphere Web Client

Performance
Improved login time
Faster right click menu load
Faster performance charts

Usability

Recent Tasks moved to bottom
Flattened right click menus
Deep lateral linking
Major Performance Improvements

UI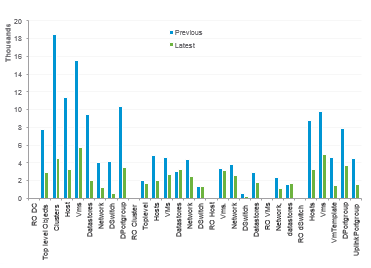 Screen by screen code optimization
Login now 13x faster
Right click menu now 4x faster
Most tasks end to end are 50+% faster
Performance charts
Charts are available and usable in less then half the time
VMRC integration
Advanced virtual machine operations
Usability Improvements
Can get anywhere in one click
Right click menu has been flattened
Recent tasks are back at the bottom
Dockable UI
vCenter Cluster Support


vCenter server is now supported to be ran in a Microsoft Cluster.





That's all of the changes we were presented with from VMware. What a ton of changes, I will dig into these more soon.
Update: a post vSphere 6 – Clarifying the misinformation has been posted to clairify any changes that have or will happen between beta and this post. I did my best to validate that my information is correct.
Roger L