More blogs that were written over night, I'll continue my collection!
Again, these are not written by me, but a collection, because I can not attend, having it all in once place to read over and over will be my own benefit.
Eric Sloff's NTPRO.NL  http://www.ntpro.nl/blog/archives/1251-Hello-John-Troyer.html
"If you want to know what's going on at the VMworld 2009 in San Francisco, you really should take a look at John Troyer's live streams.
All week long I'm doing live streaming video interviews from the podcasting booth. Just leave it on in the background and listen in during your day or join in the chat to ask questions. I'll be starting up the stream after the keynote."
——————
blog.scottlowe.org has a write up : VMworld Day 0 Wrap-Up and Links
"

Today was a crazy day. I started the day with the second day of the Partner Technical Advisory Board (PTAB) meeting.

Of course, VMware released a bevy of press releases this morning, and being stuck in the PTAB meeting I haven't really even had the chance to digest the news announcements. The announcements included:

Next-Generation VMware Partner Network Helps Partners Increase Virtualization Expertise to Expand Business Opportunities
VMware Ushers in a New Era of IT Management to Drive Business Agility with VMware vCenter™ Product Family
VMware Introduces VMware Go™—A New Service that Will Make Virtualization Even Easier for First Time Users
VMware Signs Agreement with Intel to Expand Reach of VMware vSphere™ 4 to SMB Customers
Broad Virtualization Ecosystem Rallies Behind VMware vCenter™ Product Family to Deliver Integrated Solutions for Simplified Datacenter Management
VMware Continues Its Reign as the Lowest Cost Per Application Leader with VMware vSphere 4″

That wrapped up about lunchtime, so I joined Crystal and Kathleen Troyer (John Troyer's wife) for lunch at Amber, an Indian restaurant just behind the San Francisco Marriott. (Turns out Duncan Epping was eating lunch there, too.) After lunch was complete, the afternoon flew by; Crystal and I barely had time to squeeze in dinner at John's Grill before heading over to the reception event.

The reception was good; I worked the vExpert booth with a number of fellow vExperts around, like Jason Boche, Rich Brambley, Eric Siebert, Steve Beaver, and a couple others. There wasn't as much traffic to the booth as I had hoped there would be, but that's OK.

When the reception ended, Crystal and I headed over to the Clift Hotel for an event in the Spanish Suite with EMC, VMware, and Cisco. I chatted with some Cisco and EMC folks (not so many VMware folks), and ran into Duncan (yet again). That was a great event but horribly crowded, so we left around 10 and headed back to our hotel.

Of course, the biggest news of the day was that my book, Mastering VMware vSphere 4, is sold out at the conference bookstore (or very nearly sold out). Unfortunately, there won't be any way to get more before the conference ends. Sorry, guys, but take consolation in the fact that Amazon.com is still carrying the book in stock.

Here are some other blog entries about VMworld 2009 Day Zero:

VMworld 2009 – Day 0 Highlights
VMworld 2009 conference coverage from SearchServerVirtualization.com
3 Word Challenge – VMworld Reception and Monday Night Tweetup
VMworld Sunday and Monday – Monkeys Fly
Random VMworld 2009 Thoughts
VMworld 2009: Day 1

Tomorrow starts bright and early with a vendor meeting, and then we'll quickly move into the Day 1 keynote, sessions, more vendor meetings, and more notes from the exhibit show floor. Stay tuned here for updates throughout the day tomorrow."
————-
http://www.yellow-bricks.com has a write up titled : VMworld Golden Gate Bridge Run – 2009 – Thanks everyone
"

I've seen many cool things this week and I've met a lot of cool people. But the VMworld Golden Gate Bridge Run was definitely the best thing ever. We had roughly 200 people who joined us and everyone had so much fun. The view was amazing, almost a clear blue sky.

Five weeks ago I never expected that a single tweet between @jasonboche and myself would end up in an event like this. Imagine just a couple of guys talking about running during VMworld and ending up with 200 people running the Golden Gate Bridge with multiple sponsors who committed to this on twitter. That's not something that happens every day! Thanks Stephen Herrod, Chad Sakac, Vaughn Stewart and last but not least David Davis for sponsoring the run.

Of course thanks also goes out to my VMware colleagues Craig Williams, Scott Drummonds and Timothy Stephan for stepping up to the plate and making this happen.

If anyone made pictures during the run please share them and drop a link in the comments section of my blog.

Thanks everyone for participating! And for those who missed out, we know it was all very last minute but we already spoke about making this an annual event and not only in San Francisco also Copenhagen! "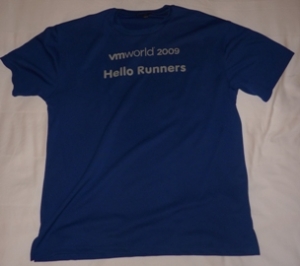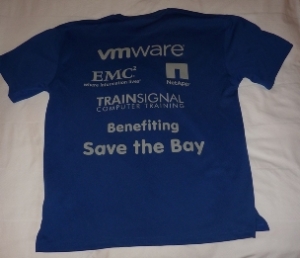 ———
http://dantedog29.blogspot.com has a blog entry titled : VMworld Day 1 Wrap-Up
"

Just finished my Booth Duty at our 10×10, and all I can say is, "I'm Parched". The booth was full, and there were people waiting left and right to speak to us. Some were there to say we will never have what VMware has, others were there because they were starting to look at Hyper-V and SMSD. Others are using us, and LOVE us. It was good to hear all of it. Folks are having great success with Hyper-V and SMSD, and with R2 those successes are growing.

There was a lot of buzz around the whole exhibit hall, and it will be nice to see the keynotes tomorrow.

I was able to meet a bunch of my old friends from VMware (some with VMware still and others that have moved on). This is such a great community, and Virtualization has been able to help so many companies that it feels like a family. I love coming back to VMworld it is like a family reunion. Yeah, my circumstances have changed, but with the friends I have made, it is almost like I just saw them yesterday. When I can talk "shop" with the VMware Compete Team, and ponder about the future of Virtualization with old SE buddies, that is a great feeling.

Tomorrow is another day, and we'll see how it pans out, but I am excited to finally hit some sessions and let you all know my thoughts on those."
———
http://www.virtuallifestyle.nl as a write up titled : I passed the VCP4 exam!
"

Sep 1, 2009 Blogs

Last July, I took part in the VMware VCP411 beta exam. I answered all 270 questions, and needed to wait, and wait, and wait until today to get the final judgement. I recieved an e-mail from the VMware Certification Team that I passed the VCP411 exam!

I'm shamelessly stealing Rick's photo of the swag that a VCP4 Certified VMworld attendee receives:
Here's my official button as well:

"
——
http://vmwaretips.com also was a VCP4 passer : VCP4 Beta Exam Information for VMworld Attendees
"

You may have heard me on Friday via Twitter that I've passed the VCP4 Beta (along with a list of others). Today I received an e-mail making it official, along with a selection of great goodies!

The list of goodies included a VCP4 Hat, VMware Certified Professional button and some really sweet (sarcastic) light up glasses…which will probably come in handy on Wednesday night!

Well, thought I'd share that with you guys. VMworld so far has been a blast.  Time to sign off and head to the Welcome Reception, where a select few will receive a very special VMwareTips.com polo shirt, button and VMnut sticker!"
——
http://netapptips.com : vSphere on NetApp Book Available at VMworld
"This morning the VMworld bookstore opened and for the first time NetApp customers are able purchase a NetApp technical book! Early reports state that sales have been solid, so if you're interested in a copy I'd suggest you grab one soon. Should you miss your opportunity to grab one the books will be available for sale in the next few weeks on Amazon.com."
——
http://netapptips.com : VMworld 2009: Building the DataCenter
"

Posted by Brian Gracely – Sr.Manager, Virtualization Architecture and Marketing

Last week we gave a brief walk through of the preparation for the VMworld Data Center, highlighting what looked like a massive amount of hardware.  But when you take a look at this video, showing the equipment on the main floor of the show, you'll quickly see the amazing power of virtualization.


The NetApp equipment in the main datacenter consists of 4 pairs of FAS3170 which will be used primarily for the performance labs. That's all Fiber Channel – the only Ethernet port connected is the management port. The User Self Paced Labs equipment will be in its own mini datacenter closer to the lab classrooms. It consists of 4 racks of 8 HP BladeSystem c7000 chassis with 16 half-height blades per chassis, along with Virtual Connect SAN modules and Cisco Catalyst Blade Switch 3020. The blades SAN boot from LUNs on 3 pairs of FAS3170 and 1 pair of FAS3140. The FAS3100s also provide large NFS datastores on which everything else in the labs runs.
"

—-
Some random Pictures.
Thanks for the author's and taker's of the pictures.
Roger L.