Today Announces the next major release of VMware's Fault Tolerance Product.  Note. These facts are pre release, thus I will update any changes if necessary, All Facts are direct From VMware.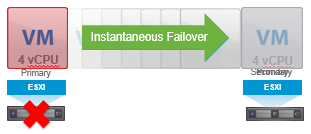 New features
Enhanced virtual disk format support
Ability to hot configure FT
Greatly increased FT host compatibility
4vCPU per VM.
Up to 4 VM's per Host. ( 10GB required.) or 8 vCPU's per Host.
Support for vStorage APIs for Data Protection (VADP)
API for non-disruptive snapshots
Source and Destination VM each have independent vmdk files
Source and Destination VM are Allowed to be on different datastores

Stay Tuned for a walk through.
Update: a post
vSphere 6 – Clarifying the misinformation
has been posted to clairify any changes that have or will happen between beta and this post. I did my best to validate that my information is correct.
Roger L