HPE INFOSIGHT: The Global Intelligence Engine
Coming to you live from California at the Tech Field Day event, #TFDx, @HPE_Storage , #NthSymp2019
Today's Reality for IT.
Infrastructure complexity
Never-Ending Fire Fighting
Pressure to lower cost
Pressure to do more
AI for autonomous Infrastructure
Self-managing
self-healthing
self-optimizing
Intelligence is Key for Infrastructure management.
More than 90% of problems arise from the above the storage layer,
HPE Infosight: Industries most advanced ai for infrastructure
Differentiated Impact
Predictive support
AI-driven operations
intelligent infrastructure
Cloud-based platform
Predictive analytics engine
Global learning
Recommendations engine
Cross-stack Telemetry
VMware
Storage, Compute, HCI,dCHI.
AIOPS For the Hybrid Cloud
For the App Owner, VM Admin, Cloud Admin, Devops, and Infa Admin.
The Cloud-based AIOps Platform sites on top of the stack.
HPE infosight cover agress the HPE portfolio
New support the the following:
primera, proliant, synergy, splivity, and dHCI.
See once, prevent for all.
Data Analytics
Case Creation
Installed-Base Prevention
Root Cause analysis
Problem resolution
HPE Infosight Prevented 600 systems from ESXI issues.
Issue: Massive application slow down.
Impact 10X lower throughput and latency
Diagnostics
Illegal iSCSI command in ESX created huge performance impact after a nimbleOS upgrade. Rapidly create a workaround until the vendor fixed the bug.
Prevention
600 systems that would have experienced the issue were blacklisted.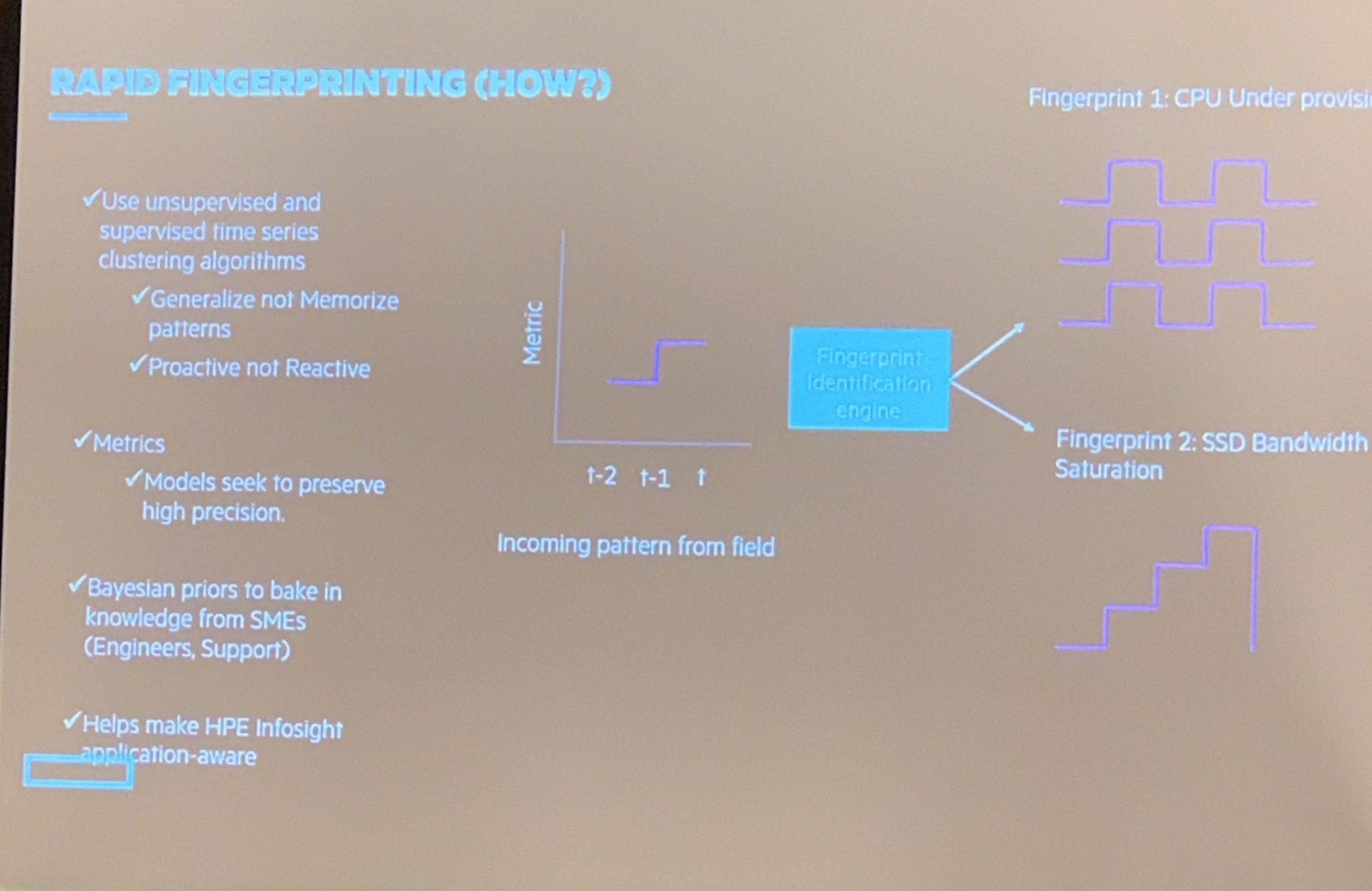 AI-Drive Operations takes out the guesswork
Improve Performance
Optimize
Simplify

Capacity reaching limits, add a shelf of disk on a date.
AI Performance Recommendation Engine.
Can help you by highlighting a area of higher vs low impact.
Can zoom into time zone to get more detail.
Resource planner
Resource planner models resource requirements based off of workload, cpu, iops.
On-Premise Workload Insights.
Performance monitoring and analysis
Evenly distributed workloads based on the saturation of each array
Performance optimization
Application Tagging.
Monitored in the cloud, deployed onsite.
Infosight for HPE Simplivity
Visitability
Predictive analytics
VM resource utilization
wellness
This is part of the Tech Field Day Exclusive with HPE Storage 2019
https://techfieldday.com/event/tfdxhpe19/
Roger Lund